#13 Interesting Bits
IF you're interested, THEN you'll read this
Hey fellow transport geek,
Welcome back to your fortnightly newsletter on innovations in informal transportation.
How are you?
---
Maybe you're like me, just tired of emails that start with "How are you?"
It pressures me to capture everything I'm trying to manage into a few lighthearted sentences; to show I'm stressed, but not too stressed; to say something for sympathy but not too much sympathy.
It tires me out but I guess I am still glad people ask.
How do you usually start your emails?
---
I realized my last few issues were eating too much of your time to read. The last one clocked in at 1,800 words and I took about 15 minutes of your life.
Sorry.
Let's keep it short this week with just a grab bag of interesting bits.
Makeshift Mobility 101
If you're new to informal transportation, WRI's The City Fix has a great learning guide called Toward Efficient Informal Urban Transit.
The guide gives short and sweet introductions to why makeshift mobility matters.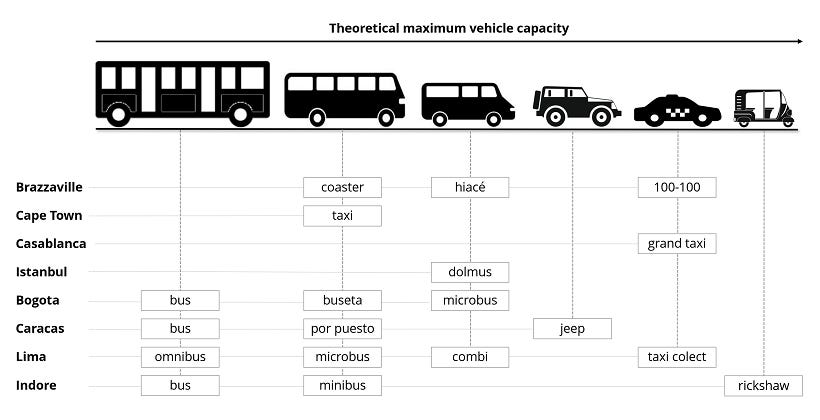 The graphic above is from the section of the guide on types of vehicles.
"Types of vehicles used range from buses to two- or three-wheelers, as well as non-motorized bicycles and rickshaws."
(I think they forgot to include two wheelers in the graphic.)
The guide even features quizzes!
They are still developing the guide and are open to suggestions. Give it visit.
What? No one's done the climate math?
I was putting a proposal together this past week and as I was doing background research, I realized there is no estimate of the total carbon emissions from informal transportation.
Isn't that a shocker?!?
There are local estimates that ARE significant. Here's a couple of examples:
Big numbers, but no global number.
Then again, I'm not surprised that no one has bothered to do the math. It just shows how neglected makeshift mobility is.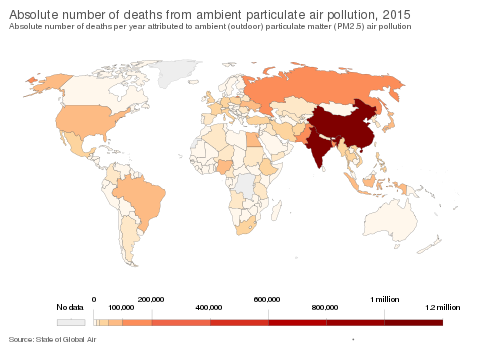 Two wheels good, three wheels bad
This one's from Fred Young of Alta-GO. Fred corrected me a few issues back that Viet Nam actually doesn't have any xe-lams anymore.
The xe-lam was their version of the tuktuk. The name comes from "lambretta," the Italian brand of motorcycles these homebrew vehicles were mostly built on. Most xe-lams had "Lambro 550" or "Lambretta" painted on the side.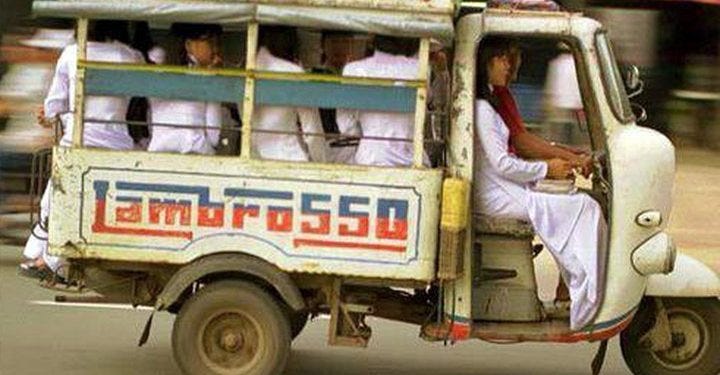 Over a decade ago, Viet Nam passed No. 32/2007 / NQ-CP an omnibus resolution to "curb traffic accidents and congestion." The regs included:
From January 1, 2008, the suspension of circulation of cars which are out of date, motor vehicles, homemade cars with 3 or 4 wheels. Intentional violations will be confiscated and dealt with the sale of scrap and added to the public fund; (via Google Translate)
That effectively banned the iconic xe-lam.
Apparently the Hanoi Transport Association tried to get around the ban by capitalizing on the "homemade" definition. They proposed importing three-wheelers but that idea quickly got quashed.
The Ministry of Transport said "public transport development must be based on more efficient means like buses, urban railway and metro systems."
See?
*I get on my soap box and clear my throat*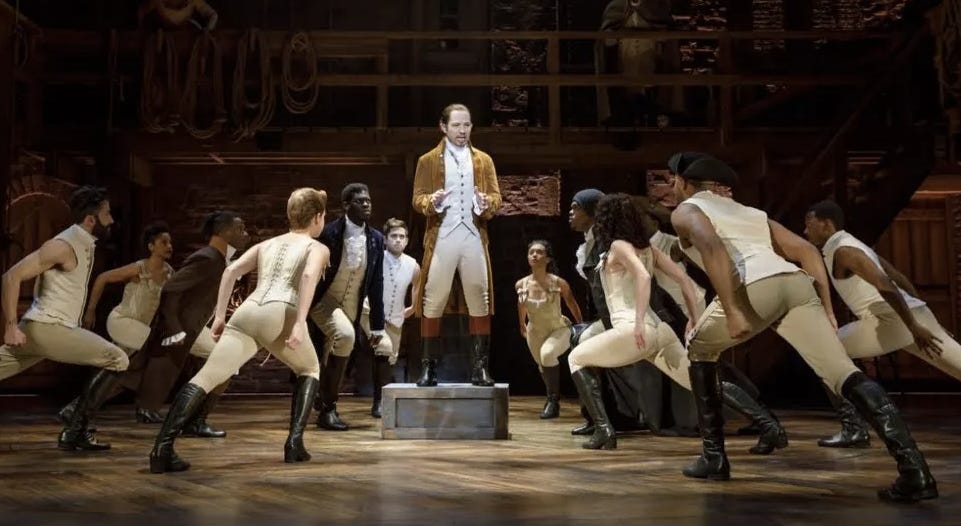 Makeshift mobility is despised in urban and transportation planning.
Many planners would rather eliminate these indigenous, self-organized, emergent services than acknowledge that they play a significant role in the mobility of their city, the vibrancy of their local economy, and the livelihoods of their constituents.
*I step down*
Thanks for this, Fred. Sorry I'm only posting it now.
(And, oh yeah, by the way kids, call them vehicular crashes not "traffic accidents.")
Something for the transport history buffs
Yes, transport historians are a thing. They even have an academic journal!
Here's some recent history I hope they get in their books:
Did you know that before GoJek became a ride hailing app, it started as a motorcycle taxi dispatching call center?
Like other informal transport call centers around at the time, GoJek offered the convenience of sending an ojek direct to your door. No more street hailing.
They started with just 20 ojek drivers. Now, they have 170 million customers and are valued north of $10B. (As the venture capitalists would say, they are a "decacorn.")

#MeTooMatatu
My Agile City Partners co-founder, Andrea San Gil Leon, clued me to the Flone Initiative. Based out of Kiambu, Kenya, Flone is:
…a women-led organization, working towards the creation of safe, sustainable and accessible public transportation spaces for women and vulnerable groups in Africa, by influencing behavioral change, generating knowledge and movement-building.

We envision a world where everyone is able to experience all freedoms of mobility.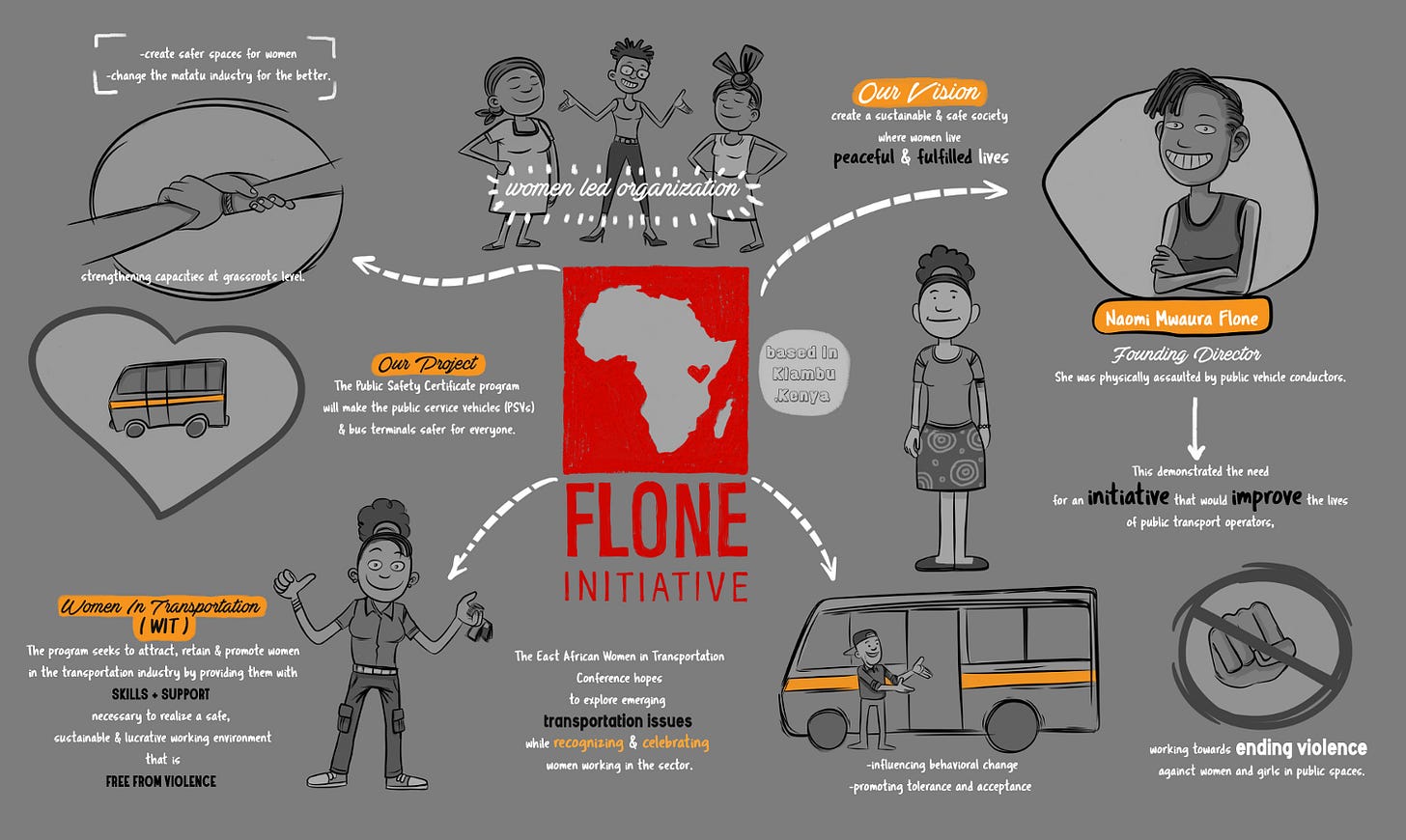 Naomi Mwaura started the organization. Many of her relatives worked in the matatu industry but one time she was physically assaulted by matatu conductors.
If you didn't know, 76% of female operators have either experienced or witnessed sexual harassment.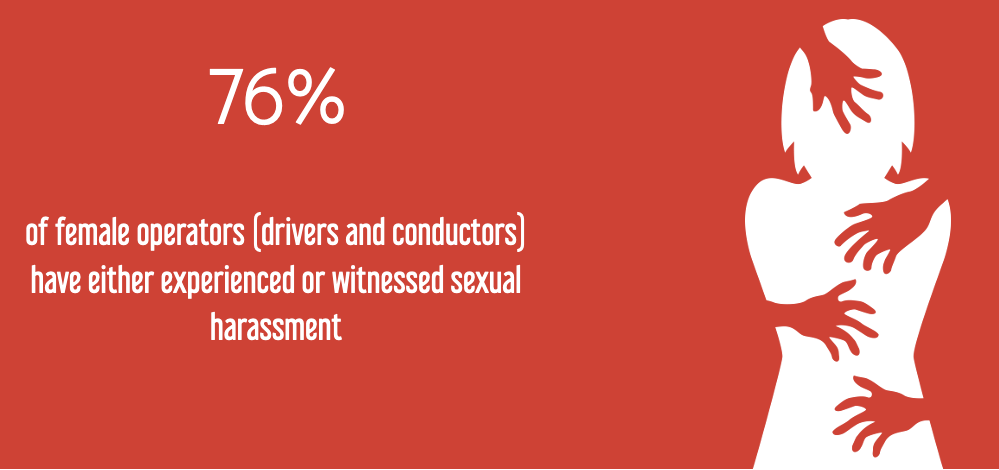 Naomi started Flone (the name comes from combing her parent's names, Florence and Nehemiah) so what happened to her doesn't happen to anyone else, and to lift up the livelihoods of the women who work in the sector.
Flone convenes the Women & Transport Africa Conference and runs the Women in Transportation program meant to "to attract, retain and promote women in the transportation industry by providing women with the skills and support necessary to realize a safe, sustainable and lucrative working environment that is free from violence."
Go support them! (Or, start an initiative in your own city.)
(And don't go blaming makeshift mobility for men being creeps. Sexual harassment is also rampant in London's underground, in Tokyo's rails, San Francisco's trains and buses, and in many other places. )
Show me the money
I've championed moving makeshift mobility to service contracting as a way to break the vehicle rental economic model that shapes the behavior of these systems. It's also a way to ensure public transportation doesn't become a vector for the pandemic.
I'm not the only one. Move as One Coalition shares the case of the city of Pavia, Iloilo in the Philippines. They are contracting jeepneys as shuttles to support front line health workers.
The lovely graphic below shares the elements.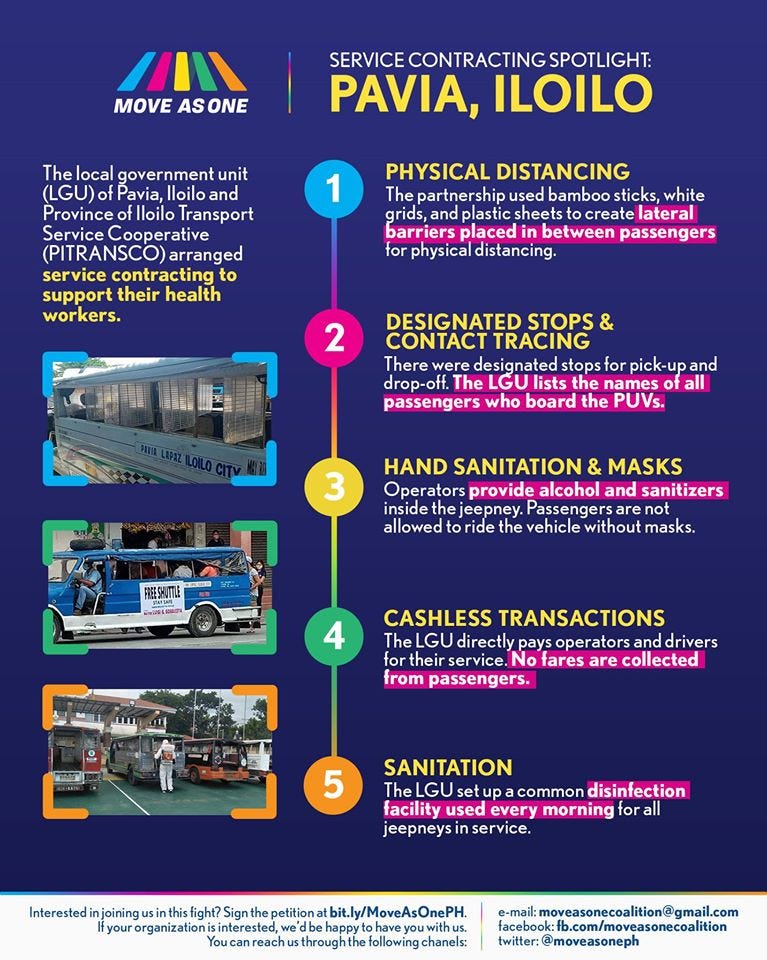 That's it for now. I have quite a few other items in my grab bag, but I want to respect your time. I leave you with some "if-then" statements.
IF you've come across something that's interesting, THEN leave a comment or just reply to this email.
IF you enjoy Makeshift Mobility, THEN you could make it worth the time I spend curating and writing. Please pass it on.
IF you care, THEN please share. (Don't make me throw a Care Bear Share gif at you.)
---
I'm Benjie de la Peña, a transport geek and urban nerd. I think a lot about strategic design, institutional shifts, and innovation.
I believe makeshift mobility could be the single greatest lever to decarbonize the urban transport sector—but only if we can organize.
If I had my druthers, the world would have a international, inter-city think tank dedicated to improving informal transportation.